In 2007, five young people aged 14 to 16years of age who had participated in previous activities of the Educational Action Research Project approached the Project Coordinator and requested a service which ran on a continuous basis during the summer holiday period. Working from a child-centred perspective the Project Manager piloted a Peer Education Programme for young males aged 14-17yrs during the summer of 2008.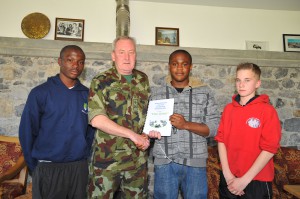 As young people under the age of 16 legislation dictates that they are too young to participate in part time employment. Through the progression of the peer education programme it was intended that the existing skills of participants would be enhanced and new skills learned. These skills could then be transferred to future employment and everyday living.
In 2008, the young participants of the Peer Education Programme chose to research the Army as a career choice. Following a research period of 5 weeks the young people designed and delivered a half-day facilitated session on this topic to young people aged 11 – 13yrs who were participating on another Educational Action Research Project programme; The Summer Connected Programme. The Summer Connected Programme worked with young people in the primary education system during summer holiday months of July and August. These young people attending this programme were from similar cultural and socio-economic backgrounds, as were the young people participating in the Peer Education Programme 2008. The young people on the Peer-Education programme, having the decided on the Army as a career choice to be researched, produced a 60 page booklet, called " The Army" and subsequently presented this to the O.C 6th Battalion, Custume Barracks , Athlone, Lt.Col. Joe Scanlon.
A copy of the booklet may be obtained from Athlone Community Taskforce. Our thanks to Lt.Col. Joe Scanlon and the members of the 6th Battalion, Custume Barracks Athlone. The programme was evaluated and published in 2008. See publication list or download the 2008 Peer-Ed Report here.